Join the Bellybutton Dance
Why not experience Furano as a memory of your trip?
Participation Rules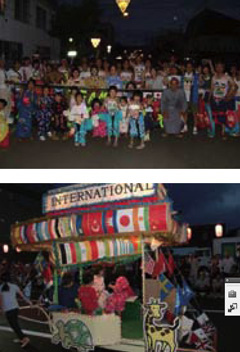 The parade dance must include stomach art and Yukata, and also floats are permissible.
Style: Essentially participants should use stomach art (see separate guide), but in cases where stomach art is impossible, wearing a Yukata is possible.
Participants wearing neither clothing nor stomach art are not permitted.
Necessary items such as straw hats and Happi jackets should be prepared by the participating groups themselves.
However, rental is possible is cases where these items cannot be procured.
There is no set limit to the number of people in each team, or a set ratio of stomach art dancers to Yukata-wearing dancers.
How to Apply to Participate
Last-minute participation OK
On both days, Thurs 7/28 and Fri 7/29, reception is limited to
50 customers.
No need to bring anything!Bellybutton Dance Set is provided.
※A fee is charged for Bellybutton Dance Set.
Prior application
People who from abroad willing to join the Bellybutton dance, pre-application is available. Family (parents with children) attendance is welcome •Participation is free of charge and is limited to 25 people per day. Furano Tourism Association will lend each participant a bellybutton dance outfit as well !!
Please contuct us with your name, nationality, gourp number, contuct e-mail address and the hotel where you stay.
Details regarding meeting time, meeting place etc. will be explained during the official application process.
Please feel free to ask questions about any points of the process you are unclear about.
Contact
076-8555 Commerce, Industry and Tourism Department,
Furano City Hall, 1-1 Yayoi-cho, Furano, Hokkaido
TEL: 0167-39-2312 FAX: 0167-23-2123
inquiry@furanotourism.com
Organizer: Hokkai Heso Matsuri Committee
Enquiries: 076-8555 Commerce, Industry and Tourism Department, Furano City Hall, 1-1 Yayoi-cho, Furano, Hokkaido
TEL: 0167-39-2312 FAX: 0167-23-2123